---
Ultrahigh-Pressure Technology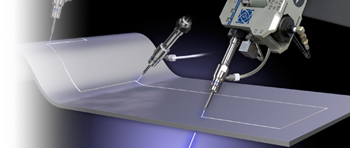 This pressure is ten times that of the world's deepest region.
The earth's deepest seabed is approximately 11,000 meters below sea level.(Challenger Deep of the Mariana Trench) The pressure is approximately 110 MPa (1,100 atmospheric pressure), which has the power to crush a hollow ball of iron.
Sugino Machine has greatly exceeded this figure and is conducting research and development into "ultrahigh-pressure" technology that produces a maximum pressure of 1,000 MPa.Sugino Machine is developing various applications for environmentally friendly engineering methods. These include reproducing and cleaning extreme environments, processing, and exploiting new materials.